Interior Styling
Style Your Marquee
When tailoring your marquee package we can offer several options. It can be confusing so we will illustrate features we can offer here for you.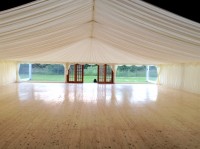 Flooring
Wooden Floor
You can decide if you want your marquee floored. We make our own solid wooden flooring, we clean, sand and varnish it regularly. A large part of our winter off season is devoted to flooring.  It comes in panels, fits the marquees perfectly and each panel is laid and packed underneath by hand if needed to fill any undulations in the ground to ensure a flat, safe floor.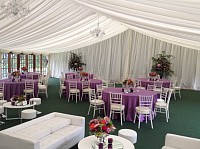 Carpet
Carpet
If our wooden floor doesn't suit your needs, we can also carpet your marquee. Great for theming as it comes in a wide variety of colours. Also good for a uniform floor appearance throughout a large marquee.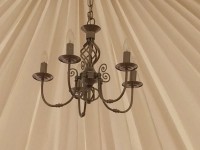 Chandeliers
Lighting
We offer two lighting options as standard. Plain fluorescent tube lighting or our chandeliers for dressed areas.  If you prefer to enhance your lighting options, a wide variety of chandeliers, festoon lighting and the coloured effect lighting you see in some of our photos can be created by Limelight Event Services.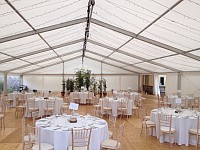 Floored and unlined (lit by Limelight)
Unlined
Something we are proud of is the fact that our marquees look great on their own.  Our walls and roofs are cleaned regularly and well looked after and provide a great 'blank canvas', to show off your own decoration and lighting.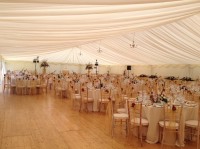 Ivory linings
Ivory Linings
The standard linings we offer are pleated ivory linings. These drape from the roof and also cover the walls (except for window walling). They provide a soft,elegant effect and provide a neutral platform for your decoration and lighting.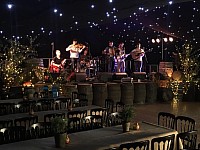 Starlight linings
Starlight/Blackout Linings 
Create a contrast in your marquee. Blackout linings with the option of millions of twinkling led starlights in the roof. 
You can use these to line individual sections or bays of your marquee.  Ceiling, walls and gable ends can be used together for example to cover the section of marquee where your band and dance floor are.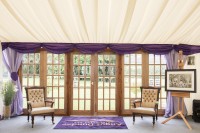 Wooden entrance door
Wooden and Glass Door
Our mahogany wooden door is a nice contrast to the clean white walls. A classy entrance to your marquee. Looks fantastic teamed up with a porch or walkway.  
Panoramic Windows
Part of the attraction of having a marquee is that you can make any destination into a venues, so why hide away inside. 
We can offer panoramic windows by replacing your white roof, gable or wall panel with clear material.
You can chose to leave a single wall clear and line the rest of the marquee to create a view. Or incorporate more clear panels to bring the outside in.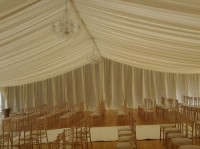 Reveal Curtain
Reveal Curtain 
For a wow! effect, our new reveal walling acts as a stage lift curtain to unveil a previously hidden dimension of your space.  The example in this photograph shows the curtain using in a wedding setting.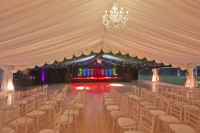 Reveal curtain
During the day the curtain was lowered to create a soft Ivory draped 'wall' surrounding the ceremony, then as the day turned to evening, the reveal was raised and wow! 
Made to fit our 15m wide structure.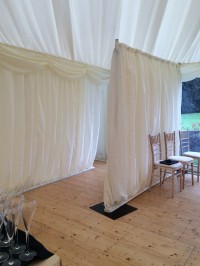 Pole and drape screen
Pole and Drape Screens
Discreet portable screens of varying size make a really handy accessory. They can be used to 'screen' off areas of your marquee. Here one is hiding the entrance of the catering annex of the marquee so guests can't see through to the kitchen, but waiting staff still have easy, clear access.  Ideal for screening off furniture such as dining tables or extra chairs you want hidden away till later in the day.