Modular Marquees Create Bespoke Venues
Marquee Layouts 
There are so many options for creating your own bespoke marquee venue. 
The modular nature of our structures and pagodas mean that multiple marquees can be adjoined to create multi-dimensional spaces to perfectly suit your hospitality plans, space constraints and budget.
_____________
You would like a covered walkway to another marquee or building?
You would like a small marquee adjoined to house a bar or lounge alongside your main dance area?
You would like a discreet annex off your main marquee to house your mobile luxury loos?
You would like a full width porch or veranda to enable your guests to enjoy the outside space?
NO PROBLEM.
  _____________  

To assist with your event planning, we can create 3d images and scale drawings to help you visualise and plan your event space.  
View our 'Planning and 3d Imaging' Page for some inspiration.
______________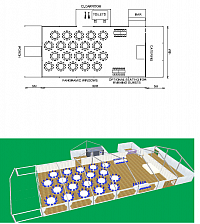 Kitchen/Prep Area
Most catered functions will require a kitchen area. This is usually an additional 5m bay added to the length of your main marquee.  
If a smaller kitchen is preferred, then we can partition the 5m bay to create a kitchen area and use the other part for the bar or buffet area.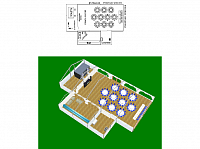 Adjoined Bar or Lounge
If you would prefer not to have your bar within your main hosting space, or if you would like a comfortable break out area for guests to relax and mingle, you may choose to adjoin a smaller marquee to your main hosting area.
Porch/Veranda
We recommend a porch for most of our social gathering marquees.  They offer an attractive addition to your marquee entrance as well as a great breakout space for your guests to enjoy.
A porch will protect the entrance of your marquee and provide shelter for guests if the weather isn't on your side.
Single or Double Bay, Full width or Pagoda Porch.  A blank canvas for you to accessorise.
Adjoined Cloakroom/WC Facilities
Most marquee events require mobile luxury loos.  For the convenience of your guests they can be fitted within a smaller marquee, adjoined to your main hosting space.   
Luxury Mobile Toilet Unit provided by Grant Event Hire   

Covered Walkways
If guests are required to move between marquees or buildings, which are spaced apart, it might be an idea to have a covered walkway.