Recommended by Grant Tent Hire
Companies listed here are tried and trusted by us. These are businesses we have worked with before who have the same work ethic, high quality product and 'can do' attitude for going the extra mile for their customer as we do.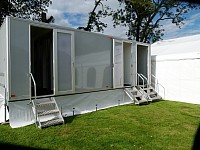 Grant Event Hire
Grant Event Hire :: Following in the family tradition of supplying high quality event services, Jim and Audrey's son, Donald and his wife Fiona, launched Grant Event Hire in 2011.
Supplying Luxury loos designed for special events. These mobile loos are like none you have seen before. Designed specifically for weddings and special events, to a high modern specification. When these loos are hired to complete your marquee from Grant Tent Hire, we can offer more possibilities such as fitting the loos inside your marquee and discounted delivery. 
This year Grant Event Hire expanded into furniture hire with a range of gorgeous Event chairs and banquet tables.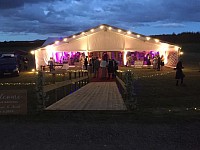 Limelight Event Services
Limelight Event Services
:: For all your effect lighting, heating & generator requirements. Most of the amazing lighting you see on our gallery pages has been done by these guys. Highly recommended.